"Windsor's Phog Lounge is everything a music venue should be. Noisy yet intimate, rough around the edges yet welcoming. It makes you instantly think of famous bars like CBGB in New York or The Horseshoe Tavern in Toronto. For the recording of Russ Macklem's The South Detroit Connection it made me think that this is how jazz would have been heard in New York in the 1950's and 1960's at places like The Five Spot or Slugs."
Ron Skinner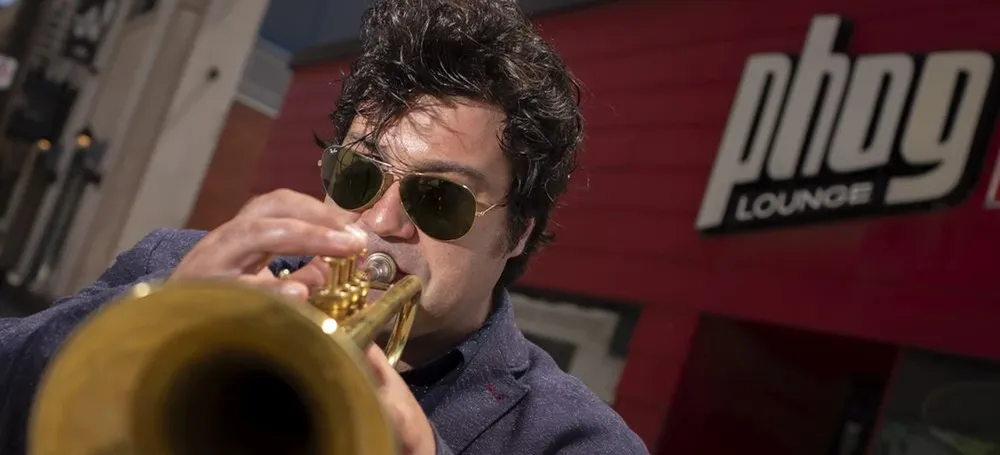 Recorded live at Windsor's Phog Lounge on January 4th 2023, Russ Macklem's The South Detroit Connection went down just as you hear it. The band played two sets that night and what you hear on this recording is set two. The bar was packed for set one and the energy in the room was high and you could feel that edge in the performance. For set two, the music you hear on this recording, the audience had thinned out a little bit and the band settled in. What came next was a stellar performance of a suite of music that clearly comes from the heart of its composer.
The band on The South Detroit Connection is made up of two of the best young musicians from Detroit; on Bass Jonathon Muir-Cotton and on Saxophone Kasan Belgrave. You could say they are the young lions of Detroit. The other two musicians are among Macklem's closest friends guitarist Sam Dickinson from Toronto and New York's Adam Arruda on Drums.
The Phog Lounge opened its doors in January of 2004 and quickly made its mark with young touring bands arriving on an almost daily basis. By 2009 its reputation was solidified when it won the CBC Radio 3 Searchlight Contest for Best Live Music Venue in Canada. The venue is a cultural hub in Windsor with a mandate of supporting and connecting artists, musicians, writers, filmmakers, students and entrepreneurs alike. Phog Lounge has enriched cultural life in the greater Windsor/Detroit community. It hosts every type of music, as evidenced in this recording by Ross Macklem, and more importantly everyone is welcome.