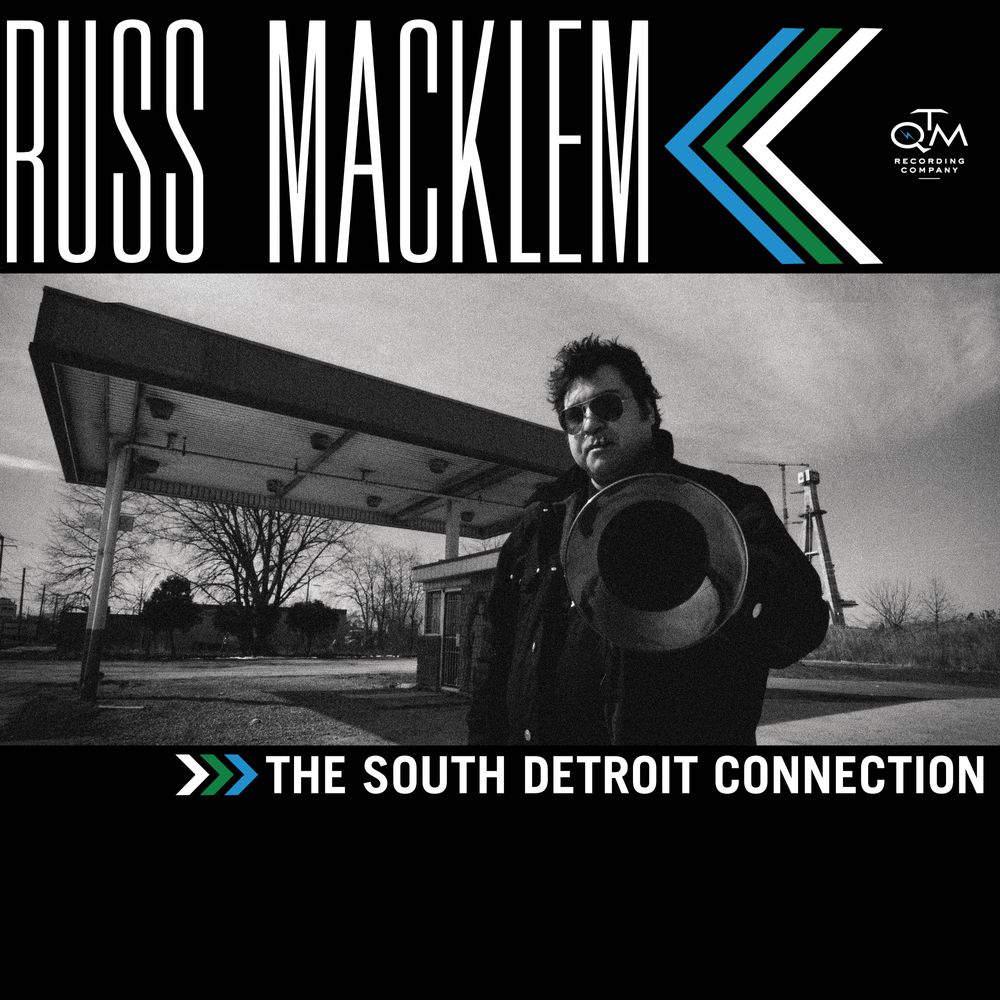 It is indeed a distinct pleasure for me have the opportunity to contribute a few words in conjunction with such an auspicious event as the release of this album, The South Detroit Connection, announcing what I can only describe as the launch of a new star shining bright in the firmament of modern music - trumpeter extraordinaire Russ Macklem.
In this live session captured just as it went down, Russ and his fine group (possessing two other compelling solo voices in guitarist Sam Dickinson and saxophonist Karan Belgrave, son of legendary trumpeter Marcus Belgrave, driven by the force that is the tight hookup between bassist Jonathon Muir-Cotton and drummer Adam Arruda) present a continuous program balanced between fiery proclamation and poised reflection. The music, all composed by Russ and presented in suite form, is finely wrought and beautiful. And the fantastic quality of this live recording really puts you right in the middle of the music! You, the listener, will feel like you are really there and present at a special, one-of-a-kind experience.
What Russ has accomplished in this performance on trumpet is completely astonishing - a tour de force of virtuoso playing and hyper-fluent, content -packed improvisational derring-do. He has stretched the boundaries of possibility on his instrument in the process of realizing his musical vision! I was lucky enough to work with Russ for three years as his mentor, colleague, and friend during the time of his doctoral study in Miami, and I can attest to the relentlessness, hard work and sacrifice he has gone through in order to grab that vision, name it, claim it and tame it. Now he has indeed aimed it - straight into the musical heavens.
As you listen to this album, only the first of many significant statements to come from this gifted young man, I hope you can feel the struggle and the triumph that was given voice in his music here. You might also feel a little of the pride that I have experienced in listening to what Russ Macklem has accomplished within these grooves.
Brian Lynch
Multiple Grammy® Award Winner
Professor, Frost School Of Music
 Personnel:
Russ Macklem: trumpet, compositions
Kasan Belgrave: saxophones
Sam Dickinson: acoustic and electric guitars
Jonathon Muir-Cotton: bass
Adam Arruda: drums
Recorded Live January 4th 2023 at Phog Lounge, Windsor, Ontario Canada 
Produced By: Russ Macklem and Ron Skinner 
Recorded, Mixed and Mastered by: Ron Skinner 
Assistant Engineer: Ryan Fields 
Design and Photography: Garth Jackson
No matter what kind of music you're into, is there anything more thrilling than a five-piece group of  musical virtuosos pushing the boundaries to their collective limit? That's precisely what's contained on The South Detroit Connection, the debut recording by trumpeter Russ Macklem. Recorded live on 
Jan. 4, 2023 at Phog Lounge in Windsor, Ontario, the album exudes all the intimate energy of classic recordings from Birdland and the Village Vanguard, but with a modern flair expressed through Macklem's horn, accompanied by saxophonist Kasan Belgrave (son of legendary Detroit musician, trumpeter Marcus Belgrave), Sam Dickinson on acoustic and electric guitars, and the rhythm section comprised of Jonathan Muir-Cotton on bass and Adam Arruda on drums.

Originally from Kelowna B.C., Russ Macklem lived and performed in many major North American cities before making his current home base in the Detroit/Windsor area, where he is a seasonal lecturer at the University of Windsor. He has performed with a wide range of artists, from Cecil 
McBee and Dave Holland to the Marley Brothers, Amp Fiddler, De'Sean Jones and Royce da 5'9", but with The South Detroit Connection, Macklem makes a powerful case to be included among the most exciting new voices on the North American jazz scene. 

The album's crackling spontaneity is no coincidence; the recording came together over the course of only a month after longtime friends Macklem and Arruda decided to set up a live date after not seeing each other for several years. Macklem quickly assembled the rest of the band, along with a suite of original compositions he titled "Looking For Home." 

Macklem explains, "Although this group had never played together, I could already hear how heavy this combination of some of my favorite people and musicians would sound. I couldn't stop thinking about it. One of my best friends, Jesse Klirsfeld, a great New York trumpet player who I attended the University of Miami with had told me for years: Make your first record a live record, and that I would know when the right moment to do it would be. THIS was the right moment. I wanted my musical voice and vision to pop out of the grooves on the record—live, unedited, virtuosic, raw, and fearless. I think we were successful." 

Indeed, recording engineer Ron Skinner captured the group's performance in stunning clarity, with the audio quality enhanced further through the album being pressed to vinyl on two 12-inch, 45rpm discs. It adds up to a truly magical listening experience, with the individual players getting a chance to improvise within Macklem's sonic frameworks, which he says grew out of a combination of his deep musical studies, and his story of an unintentionally nomadic life, rife with loss of love, and search for a place to call home. 

He explains, "My sound lives on the outskirts of the contemporary jazz scene, secluded from the safety of those playing to the crowd, but maybe familiar to those who have ears for mid '60s and beyond Miles Davis, Marcus Belgrave, Wayne Shorter, Andrew Hill, Elvin Jones, late Coltrane, 
Kenny Wheeler, Woody Shaw, and the Avant Garde." 

As jazz has continued to evolve into the 21st century, it could be argued that something it lacks are the singular personalities that marked its various stages of development. Russ Macklem is the type of musician who could have easily found a place playing rock and roll or R&B, but he plays jazz as if 
his life depends on it. As it should be.